Huawei Ascend D2 has a 1080p screen, homemade quad-core processor
19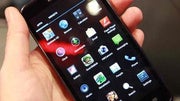 About a month ago, the
Huawei Ascend D2 was revealed officially in China
, becoming the maker's first attempt to make a splash into the 5-inch category of Android high-ends. A number of details regarding its specs, however, were not disclosed during the announcement, such as the screen's resolution and the processor's make and model.
But now that the Huawei Ascend D2 has been spotted in the
GLBenchmark
database, some of the aforementioned blanks got filled with intriguing information. The smartphone's 5-inch screen has a
resolution of 1920 by 1080 pixels
, which is exactly what smartphones like the
HTC Droid DNA
and the
ZTE Nubia Z5
have to brag with. Actually, the database specifies a screen size of 1800 by 1080 pixels, but we think it is safe to assume that the missing rows are occupied by on-screen buttons.
Furthermore, a GPU made by Hisilicon Technologies is being mentioned. Since the company is a Huawei subsidiary, we are led to believe that the Ascend D2 comes with a homemade SoC. The K3V2 chip made by Huawei made an appearance on the
Ascend D quad
, and as our
mobile processor comparison
demonstrated, the silicon is decent a performer. The quad-core chip used in the Huawei Ascend D2 runs at 1.5GHz, but whether it is the K3V2 or a newer model isn't known yet. Last but not least, the benchmark confirms that the smartphone has Android 4.1 pre-installed.
The Huawei Ascend D2 is expected to launch in January of 2013. So far we have no word regarding availability in the U.S. or Europe.