How to win at Swing Copters (or at least double your score)
16
Swing Copters, the new game by Flappy Bird creator Dong Nguyen, is out and it's ridiculously hard. It's so tough, that after playing it for quite a while our high score stood at the very miserable… 1.
In the game, you navigate a cute, heli-hat equipped character through tiny openings and swinging hammers by tapping anywhere on the screen to change direction. Tap, tap, tap, and crash. That's the usual way the game progresses, and frustration quickly builds up.
So how do you win at Swing Copters (where by win we mean 'score more than 1')? You need a tactic, or a simple rule. That rule is:
STAY IN THE LANE
That's all it boils down to really. Take a look at the opening that your cute character has to pass through and draw imaginary lines down. That's your lane. Tap too slow and you're out of your lane and in the way of the hammers that will crush you. Tap too fast and you'll quickly lose track of your flying creature and have it crash somewhere.
That's why you should stick to flying between the walls of that imaginary lane. Be focused and be patient. With all this in mind, we were able to quickly double our score, and then double it up once more in just 10 minutes. Try it yourself and let us know if it works for you.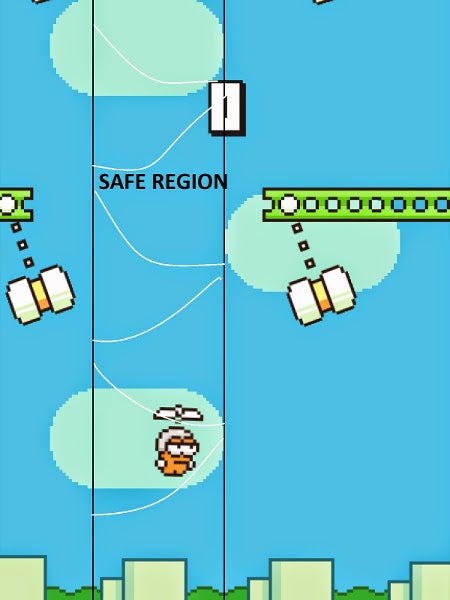 source:
iAppAnalysis