How to use Pop-up View mode on the S7 or S7 edge with the Nougat update
6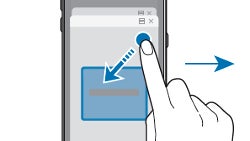 Samsung made the split screen viewing mode somewhat mainstream by having been incorporating it in its Android overlay features for a while now. Needless to say, it is most useful on phones with larger displays, but works well if you have a lot of back and forth to cover, too, like chatting and checking something online to back up your arguments, or having to constantly copy and paste elements between windows.
After other manufacturers started incorporating this in their Android interfaces, too, Google finally got the message, and introduced multi-window in the Android 7.0 Nougat native code. This has prompted a bit of a rework in the way split-screen is launched and handled on
Samsung phones with the new Nougat update
, in order to reflect the system-level incorporation, though the overall method remains the same.
What changed, however, is the way Pop-up View mode works now on the
S7
and
S7 edge
with Nougat. Pop-up View lets you fetch a window for any app of your choosing, but is launched somewhat differently now:
1. On Marshmallow, you had to drag down diagonally from either end of the top edge in order to shrink the app window into Pop-Up View mode: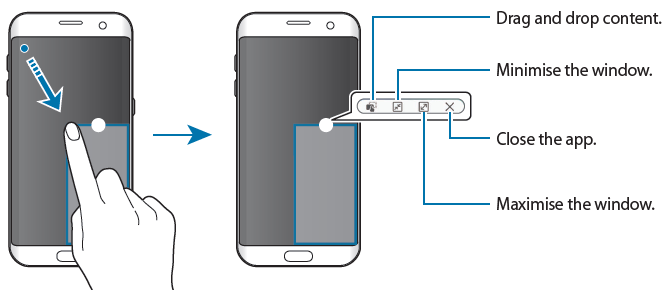 Pop-up view launch on Marshmallow
2. With Nougat arriving on Samsung's 2016 and 2015 flagships, the way to launch the Pop-up View mode is to tap the Recents button, pick an app window, then drag it to the "Open in Pop-up View" option mid-screen. The app will shrink into a pop-up window, which can then be moved around freely by holding the window's toolbar and drag it around at will: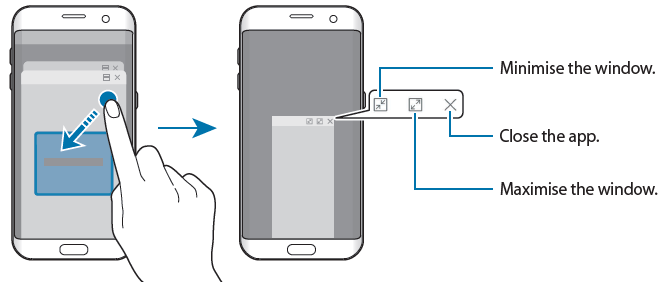 Pop-up view launch on Nougat