How to turn off (or adjust) animations on Android
11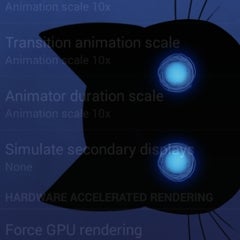 Did you know that your Android device allows you to turn off (or adjust to your liking) most of the animations that you're seeing throughout the system? Since this isn't something that can be done by default, you first need to enable your Android device's developer options. In case you don't know how to do that, check out
this tutorial
.
Once developer options have been enabled, you'll see a tab dedicated to them in your main settings menu. Access the developer options, then scroll down until you find the animation settings. There are three different options that can be disabled or adjusted: window animation scale, transition animation scale, and animator duration scale. Turning off each of them should speed up your device. However, if you have a high-end device with plenty of RAM and a powerful processor, the speed difference may not be noticeable - though you'll certainly notice that animations (for example, when you open an app like Messaging) are completely gone.
Besides disabling animations, you can also leave them enabled, and play around with their speed, or duration. Note that, setting everything to the maximum (10x) will make things veeery slow - resulting in overlaid screens like the one seen above. But, of course, you're free to test any combination of settings.
P.S.: While this tutorial was made on stock Android 4.4.4 KitKat, the procedure is similar (once you're in the Settings menu) for all recent Android devices - version 4.0 or newer.