How to sort apps by install date on Android
3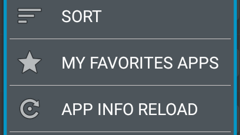 By default, Android lets you sort the apps that you have on your device by name, or by size. While both options are great, there's one that's curiously missing: you can not sort apps by their install date. More exactly, you can't do it from your device's App settings menu. Fortunately, there is a solution to this problem (assuming you think of it as a problem).
As it often happens when an Android feature or option is missing, third-party apps come to the rescue. We found an app that lets us easily sort installed apps by date (either ascending, or descending). Called Smart App Manager, the application can be downloaded for free via Google Play - see the source link below. After you download, install and open Smart App Manager, you'll notice that it, too, lists apps by name by default. To quickly change that, tap on the
More
button that you'll see on the top-right, then tap on
Sort
. The pop-up window that shows up next will enable you to list apps by install date - in addition to sorting them by name and file size. Everything is illustrated in the slideshow below.
While Smart App Manager is free and doesn't offer in-app purchases, it serves ads (but they're not too intrusive). We used the application on stock Android 5.0 Lollipop, but it should work fine with any device running Android 2.3 or later.
Do you think sorting apps by install date can be useful at times? Let us know in the comments!
source:
Google Play