How to save web pages for offline viewing on Android
4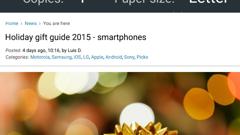 Do you often use your Android smartphone or tablet in areas where there's no internet connection (or maybe you just don't have a data plan)? If you do, you sometimes might get frustrated because, during those times, you can't access the content of web pages on your device. However, you actually
can
access content from web pages - if, at first, you save the pages for offline viewing when you happen to be around an internet connection (either on a cellular network, or Wi-Fi).
You can easily save web pages for offline viewing using Google Chrome, or other browsers, like Mozilla Firefox.
Unlike Chrome for desktop, the Chrome app for Android doesn't let you save complete web pages. What you can do is save pages as PDF files, thus making them accessible offline at any time. To do this, just open up Chrome, go to the web page that you want to save, tap on Chrome's three-dot menu button, and select "Print" from the drop-down menu. Then, you should be able to see a button that lets you save the web page as PDF - tap it, choose the option to save the file in Downloads, rename the file if you want, hit Save, and that's it: the PDF file will be saved in your Downloads folder.
In Firefox, the procedure is similar, though a bit faster: open the desired web page and go to Menu -> Page -> Save As PDF. Once again, your webpage (as PDF) will be stored in your device's Downloads folder.
Saving web pages as PDF for offline viewing won't save any videos that happen to be on those pages, and neither entire photo galleries (though any photo and text that's visible on the page - even if it may not appear on your screen unless you scroll down - will be included).
Recommended Stories