How to install the new Google Now virtual concierge in Android Jelly Bean on your rooted CM9 device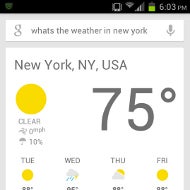 Arguably the most forward-looking feature of the new Android 4.1 Jelly Bean version is its
Google Now virtual concierge service
, which chimes in with reminders, train and flight schedules, restaurant info for the are you are strolling, and so on, depending on the time of day, your mood and the surroundings.
If you have been jelly that only a handful of device are being able to take advantage of Google Now in Jelly Bean, now you will have something to celebrate, as the service has just been ported to rooted Android ICS phones, running AOSP ROMs like CyanogenMod 9, which
got released for 37 popular handsets recently
.
Unfortunately, that
cool new Google Voice Search
hasn't been ported yet, as it is an integrated part of Jelly Bean, but if you are interesting in trying out Google Now on your CM9 device, download the APK file from the source link, and follow the steps below:
Open Root Explorer & navigate to /system
Now Open build.prop in Text Editor.
Edit ro.build.version.sdk = 16 & save.
Now go to /system/app & Rename GoogleQuickSearchBox.apk to GoogleQuickSearchBox.apk1
Now reboot & install the app from the download link.
Now edit build.prop & change ro.build.version.sdk = 15 & reboot.