How to configure the backlight behavior of Samsung Galaxy S6/S6 edge's capacitive keys
10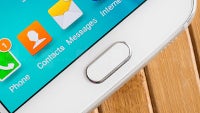 With its new Galaxy flagship, the
Galaxy S6
, Samsung has slimmed down and streamlined TouchWiz UI. In fact, Samsung's newest UI is so much cleaner than its predecessor that it's lacking a bit of relatively useful features that were once present.
Among these is the feature that allowed you to determine whether the capacitive keys at the bottom light up or not, and for how long they will stay turned on.
This feature is nowhere to be found on the Galaxy S6/S6 edge, which might slightly disappoint some die-hard Samsung fans, as it was actually a useful one. Worry not - there's an app for that! In particular, it's a free app called Galaxy Button Lights, which allows you to configure whether the capacitive keys of your flagship will light up or not. You can not only adjust the amount of time during which the keys will remain lit up, you can also disable the keys' backlighting altogether.
The best thing is that this app doesn't require root access. Here's how to make use of it.
Recommended Stories