How to check screen on time on Android Marshmallow and Lollipop devices
4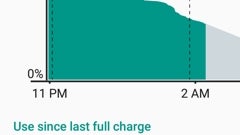 Please note: this is a tutorial for inexperienced users.
Curious to know how much screen-on time your Android device's battery is capable of providing from a single charge? You can easily find out if your phone or tablet is running Android Lollipop, or Android Marshmallow. Read on to see how.
How to check screen time on Android
So, how to check screen time on Android? From your device's home screen, pull down the Quick Settings panel, and tap on the battery icon that you'll see in the upper right corner. Once you do that, a Battery menu will show up, displaying detailed info on what's draining your battery. Most of the time, your Android's screen time will be among the top battery consumers, so you should be able to notice a Screen tab somewhere in there - tap on it when you spot it, and that's it: you'll see exactly how long the screen has been on. Note that this is the screen-on time since the last full charge - so it won't be accurate if you have the habit of charging your phone or tablet without waiting for the battery to get to 100%.
P.S.: This tutorial was made on a Google Nexus 5X running stock Android 6.0.1 Marshmallow. Things may look different on devices running non-stock Android, but generally speaking, that's how to check screen time on Android, Samsung, and the rest of the major Android manufacturers.