How much would it cost to build the iPhone in the US? MIT has the answer..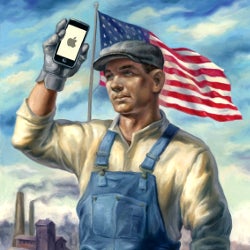 Apple has been lambasted that it doesn't build its gear in the United States, instead of China, but it embarked on a real "
Made in America
" campaign with the Mac Pro in 2013, and not only as a token gesture, as the investment was worth $100 million.
Apple's bread-and-butter product, however, the iPhone, is still largely manufactured in China, and a team from MIT experts ran the numbers to gauge exactly how much extra it would cost to produce it here at home. It took the $749
iPhone 6s Plus
as a baseline, and ran two scenarios - with only assembly moved to the US, and both components and assembly done here to the extent possible.
Of course, there are no bauxite mines in the US, so Apple would still have to rely on China for an aluminum iPhone, unless it changes the exterior completely, too. The other uninspiring part of this calculation exercise? Well, even if Apple charges $850 for an iPhone 6s Plus that is (mostly) made in the US, with today's labor automation standards, that will still create very, very few new jobs, estimate the researchers, and that's the whole point of such a move, after all.