Tim Cook says he wants there to be Apple products made in America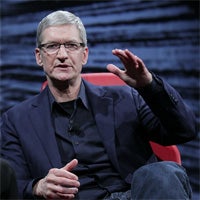 Apple CEO Tim Cook is in the midst of an interview with AllThingsD's Kara Swisher and Walt Mossberg. While they are discussing a number of topics this evening, one very interesting one came up – Is Apple actually interested in manufacturing any of its products here in the United States?
Cook pointed out that a lot of components of Apple's products are, in fact, made in the US. He cited such examples as the iPhone's glass, which is made in Kentucky and the CPUs for both the iPhone and the iPad are made in Austin, TX.
Obviously finally assembly is currently done overseas. Cook said that could probably be done in the U.S., but points out that there is a lack of tool-and-die makers in the U.S. He said,
"I could ask them, nationwide, to come here tonight and we couldn't fill this room."
He made it clear that he wants there to be Apple products made in America, even saying that he hopes one day final assembly will take place stateside. Cook said,
"We will do as many of these things as we can do
[in America],
and you can bet that we'll use our influence to do it."