How big would you like the new iPhone screen to be?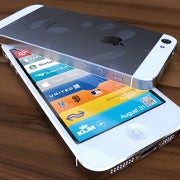 In case you haven't noticed, the rumor mill is working at full speed the last few weeks (months?), constantly feeding us with new speculation around the upcoming iPhone 5, or however it ends up being called.
One of the more persistent rumors is the one that reiterates over and over again that
the new iPhone will feature a bigger display
.
When the original iPhone was announced in 2007, its 3.5" screen was considered large, but this certainly isn't the situation in 2012. Today, we have many smartphones with screens much bigger than that, with some even surpassing the 5" mark. Of course, this doesn't mean that Apple absolutely has to increase the screen size of its next phone. Many of the companies manufacturing such large-screened handsets are going for a somewhat different group of users, but still, with so many indications that Apple will, in fact, unveil an iPhone with a bigger display this year (possibly
as early as mid-September
), we thought this is the perfect moment to ask you to share your position on this society-disturbing question - how big would you like the new iPhone screen to be?
Feel free to choose one of our predefined answers below! If you can't relate to any of these answers, however, you can always take it to the comments and speak your mind.