Hidden camera footage shows the exhausted workers in an iPhone 6 and iPhone 6 Plus factory
74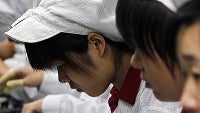 So, Apple's
iPhone 6
and
6 Plus
have been a smashing success, as Apple is just now able to
drop the lead times
on orders to 1 day, and it seems that the overwhelming demand is slowly balancing out with the supply. While we do not have accurate numbers, it's been reported time and time again that
millions and millions
of units have been sold, and that Apple's suppliers are having a
hard time
keeping up.
Unfortunately, the suppliers' workers seem to be taking some of the heaviest hits from the high demand.
Back in September
, New York-based China Labor Watch investigated a factory, owned by Catcher Technology, a company mainly tasked with making the bodies for iPads and Macbooks, and found 22 labor violations. Now, BBC sent their own undercover workers in a factory, owned by Taiwan-based
Pegatron
– one of the main suppliers for the iPhone 6 and iPhone 6 Plus – and things are not looking pretty.
A couple of years ago, Apple
promised
to keep a
strict eye
on how workers in its supply chain are treated, however, BBC's investigator saw breaches not only of Apple's guidelines, but of China's labor laws as soon as he set foot in the factory. His ID was taken, with no word on when (if) he is getting it back; the safety and health exam, which each worker needs to pass in order to be deemed capable of working in the facility, was taken verbally, by the full group of new employees, which makes the exam next to useless; when it comes to filling out the form, where workers have to give their consent to night shifts, they are explicitly told to mark "Yes", or leave. The reporter said that the work shifts inside the factory often exceeded the 12-hour mark, and there was no overtime pay, nor days off – he reports to have worked 18 days straight, with no rest, despite him having demanded one. The footage shows a lot of workers, grabbing a nap on their workplace – sometimes, entire lines have not a single person awake on them.
Apple's response is that "napping in breaks is not unusual", and both it and Pegatron have said to be looking into the BBC's claims, with Cupertinians adding that they constantly work with suppliers to make sure there is no excessive overtime for the workers, and that no other company is doing as much as them, in the field of fair and safe working conditions.
via:
TheGuardian