Here's what's inside an Apple iPhone 6s: teardown reveals 2GB of RAM, it's easy to get it repaired
30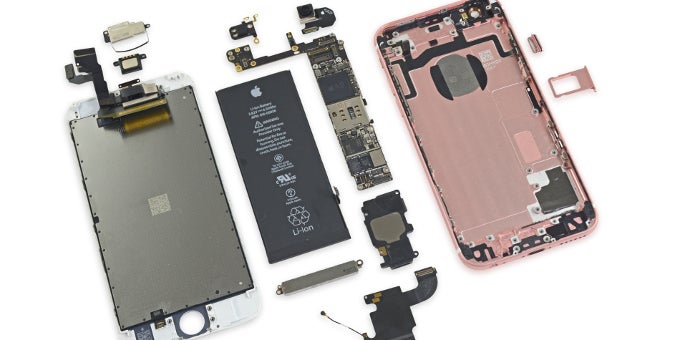 The
iPhone 6s
and
6s Plus
are officially available from Apple's retail stores across the world and all the major US carriers starting
today
, September 25, but a number of customers have already been lucky enough to lay their grubby mitts on Apple's newest smartphone crop. Fortunately for us and all other eager enough for a teardown of the new iPhones, iFixit has also gotten an iPhone 6s unit that promptly got subjected to the disassembly treatment.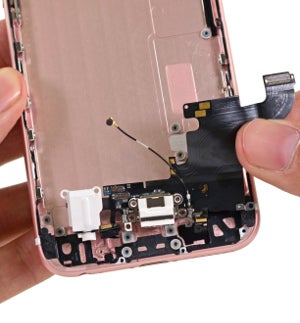 For one, iFixit's teardown finally lifts the veil on all of the hardware internals of the iPhone, confirming almost everything we knew about the phone beforehand. It can be now safely written in stone that the device arrives with 2GB of Samsung-made LPDDR4 RAM, a 1,715mAh battery, which is a bit smaller than last year's offering in the iPhone 6, as well as a Qualcomm MDM9635M LTE Cat. 6 modem.
Additionally, the on-board storage of the phone is courtesy of a Toshiba THGBX5G7D2KLFXG 19 nm NAND Flash module, while the majority of other hardware components are similar with the ones in the iPhone 6. Interestingly enough, the lightning cable now comes with two microphones.
Undoubtedly, one of the more curious components inside the iPhone 6s are the 3D Touch display underpanel, which doesn't seem to be fused to the display itself, and the new taptic engine, which reaches its operational peak after merely a single oscillation. iFixit even took a nifty X-ray footage of the taptic motor in action.
As usual, iFixit gives its repairability verdict at the end of the teardown and the iPhone 6s gets 7 out of 10 points. It's lauded for the easy access to the display and the battery. Removing the latter in particular is relatively a no-frills experience, if you have the right set of tools, of course. Still, the device is criticized for its Touch ID cable which is paired with the logic board and Apple's use of proprietary screws (pentalobe ones).
The teardown of the the 6s Plus is just around the corner, but don't expect its insides to be much different.