Here's how to easily manage app permissions on your non-rooted LG G3
2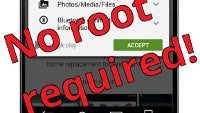 Many users are becoming quite conscious about the number of permissions many Android apps are requesting prior to their installation. Usually, developers claim that their apps have perfectly logical reasons to require the given permissions.
Still, Android enthusiasts that are not leaving their houses and apartments without pointy tinfoil hats on their heads are certainly putting permissions under the microscope before they give the app a green light.
If you are using LG's latest entrant to the top-tier smartphone segment, the G3, then we have some good news for you! It looks like LG has included a hidden and quite nifty feature in the G3, which neither requires you to root your device, nor input long lines of code. Basically, it allows you to edit and manage the various permissions that each and every app has requested after you've already installed these on your phone.
Of course, you should be careful when doing this, as you might render some apps useless. For example, forbidding Instagram to use your handset's camera is not a wise idea if you're posting selfies on a regular basis; however, if you generally feel that Facebook shouldn't be aware of your location, you can forbid it to track you.
There are many third-party Android apps that do the exact same thing, but some of these require root, while others tend to work improperly from time to time. Anyway, here's how to quickly manage these on your G3.