Here is why the Nokia Lumia 920 has no microSD card slot
99+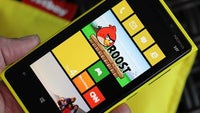 You know what a
Nokia Lumia 820
has that a
Nokia Lumia 920
doesn't? A microSD card slot. Not that the company's newest Windows Phone flagship necessarily needs one since it has 32 gigabytes of on-board storage available right out of the box, yet still, the decision to leave out the option for storage expansion boggles the minds of many smartphone enthusiasts.
Yet Kevin Shields, executive vice president at Nokia, was kind enough to shed some light on the matter. While speaking with PC Pro, he stated that to out a microSD card slot on the Nokia Lumia 920 would have ruined its design.
"We started with the premise that we wanted an uncompromised physical form,"
he said, and a microSD card slot
"would have defiled it."
Besides, Shields added that not too many owners use that much storage anyway.
So there you have it. If you plan on owning a Nokia Lumia 920, prepare to live with a pretty handset, but "only" 32GB of on-board storage. Still, that should be enough space to store plenty of those
PureView photos
.