Here are some of the purported features of Samsung's rumored Orbis smartwatch
13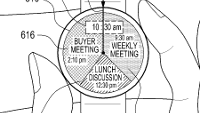 Just last week, we heard that apart from the much-expected
Galaxy S6
, Samsung might also unveil a new smartwatch at this year's MWC expo.
Codenamed
Project Orbis
(see the analogy with Project Zero, a.k.a. the Galaxy S6?), this wearable is said to come with a rotary ring dial at its front, which will allow its users to interact with the gizmo.
SamMobile today revealed some additional features of the rumored wearable. For starters, it won't allow you to make phone calls; instead, you'd only be able to dismiss or accept incoming calls from the smartwatch - of course, you'd only be able to do so if you have paired a compatible smartphone with this wearable.
Some of the other noteworthy features that SamMobile highlights are the rotary dial's ability to cycle through the available apps, settings, and features of the device. Rotating the dial slowly will show one app at a time, while rotating it faster will go through three separate apps at a time. The side-positioned crown of the watch will function as a "back" and a hang-up button. You'd also be enabled to control the on-board music player with the dial and the crown - cycling through songs, pausing, and muting the current music track will be some of the features, SamMobile claims.
From the looks of it, Samsung is trying to set itself apart from the rest of its smartwatch rivals. Apple is about to launch its
Apple Watch
in the following weeks, which will make use of a rotary crown on the side. Well, we wouldn't want to speculate, but from the looks of it, Samsung might be prepping the Orbis as a direct answer to the Apple Watch.