Here are some interesting rumored details about the Apple iPhone 6
25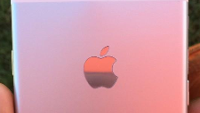 According to a source, who has knowledge of Apple's plans, the September 9th event being held by Apple
will take the wrappings off both the 4.7 inch Apple iPhone 6 and the 5.5 inch Apple iPhone phablet
. The former will launch in the middle of next month with the latter being released up to a month later, according to this source. The same tipster is passing along the news that the screen on the
Apple iPhone 6
is
not as hard as sapphire glass, but is harder than Corning's Gorilla Glass
.
According to this source, the A7 processor now employed on the Apple iPhone 5s, which is a dual-core 1.3GHz chip, will be replaced by the A8 on the iPhone 6. The latter will run at a clock speed of 2.0GHz for each core. The modem used by the phone will be the Qualcomm MDM9x35, which supports the super zippy LTE Cat. 6, with peak speeds of 300Mbps.
Touch ID will be improved to read fingerprints faster and more accurately. The number of false rejections should decrease, and the feature will work better so that you can make secure mobile payments. Speaking of mobile payments,
the Apple iPhone 6 will bring NFC support to the phone
at last, says the tipster. That will allow the phone to become used in mobile payments
without using a special case
.
The source also notes that Apple has been working on its own chip for the faster Wi-Fi 802.11ac standard, but has to rely on ones made by Broadcom for the iPhone 6. Apple's home-cooking apparently isn't quite ready in this area. Lastly, the source says that Apple has been working on a way for the iPhone 6 to "shake hands" with Beats headsets so that the phone can authenticate the use of the accessory. It is unclear what the verification would lead to.
Keep in mind that there is always the possibility that changes will be made before the first units ship. In addition, it is best to be cynical about what features will be on the phone until Apple makes them official.
source:
VentureBeat
via
BGR