Video puts the kibosh on a pure sapphire screen for the Apple iPhone 6?
37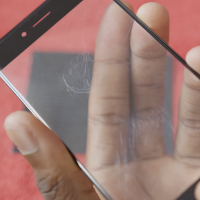 If a video posted to YouTube late Friday is legit, it could confirm recent talk that Apple will restrict, or not use pure sapphire glass on the
Apple iPhone 6
. The video shows how sandpaper scratches the screen on the
Apple iPhone 5s
(although not the sapphire covered Touch ID home button). It also shows how the sandpaper scratches what is alleged to be a front panel for the 4.7 inch Apple iPhone 6.
With a score of 9 on the Mohs scale of relative hardness, sapphire can be scratched only by a harder material. In the case of sapphire, that would require something with a score of 10, such as a diamond. Since the sandpaper did scratch the purported iPhone 6 screen, there are a few possibilities. Ming-Chi Kuo of KGI Securities suggests that because of cost,
only the 64GB version of the 5.5 inch Apple iPhone phablet could take advantage of the material
. Considering that the panel that scratched in the video below has a 4.7 inch screen, Kuo's theory is still alive.
Another possibility is that
Apple will not use sapphire at all for the iPhone 6
. Or perhaps the front panel being tested is a fake, and is not the legitimate part. One last possibility brought up on the video, is that while the display might not be made of pure sapphire glass, it could be made of a composite material that is harder than Gorilla Glass, but not as strong as sapphire.
We haven't seen an iPhone lost in a bar since the
Apple iPhone 4s
was
picked up off the floor of Cava 22 in San Francisco
, so we are due. If that doesn't take place again this year, we will have to wait for Apple to unveil the next iteration of the iPhone, to find out what material is being used on the screen. That should take place in September.
source:
MarquesBrownlee
via
AppleInsider