Here are more pictures and video of the intriguing BlackBerry Passport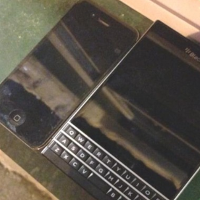 There are plenty of flagship models that are capturing the attention of smartphone buyers throughout the world. There are the big three Android models like the
HTC One (M8)
, the
Samsung Galaxy S5
and the
LG G3
. Certainly, the
Samsung Galaxy F
would make it a big four if it becomes reality,
thanks to the metal construction and the 1440 x 2560 resolution screen
expected on the phone. Now that the
Amazon Fire Phone
has been introduced, there is a large contingent interested
in the 3D imagery and other features of the phone
.
But over the last few weeks, another phone has caught the eye of many smartphone fans. Improbably, this phone is a BlackBerry model. The company's upcoming, still unannounced flagship device, is capturing plenty of attention thanks to its unique look. The BlackBerry Passport is expected to have a 4+ inch screen with resolution of 1440 x 1440, a terrific
pixel
density and a quad-core Snapdragon 800 CPU. 3GB of RAM is believed to be on board and a 13MP snapper is said to be on back. And to keep the phone running all day, a 3450mAh battery is included.
What has everyone excited about the phone, is the unique QWERTY keyboard. Press on the keys to type letters, and swipe over the keys for punctuation, numbers, and other functions. Will this phone be a
passport back to the land of relevancy for BlackBerry?

So far, BlackBerry CEO John Chen gets high marks for what he has done for BlackBerry so quickly. He has BBM adding new subscribers, even from other platforms, increasing the value of the messaging app. He also has started monetizing it as well. The executive has BES12 poised to be the MDM for any business running a fleet of iOS, Android, BlackBerry or Windows Phone handsets. He has laid off some of the risk on low-end handsets to Foxconn, and is keeping an ear to the ground to figure out what buyers of top-shelf models want. If Chen can get a decent marketing campaign going, BlackBerry just might surprise a few people over the next year.


source: ChrisParsons via Crackberry