Hearthstone: Journey to Un'goro is here, and it comes with plenty of additions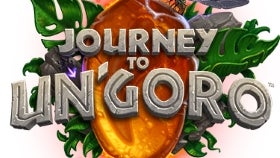 Hearthstone is the most popular digital card game by a wide margin, and Blizzard is doing its best to keep it that way. Since its release in 2014, it has already seen five expansions, counting
Journey to Un'goro
that was launched today.
The new expansion brings 135 new cards, adding a variety of dinosaurs and elementals, among other things. Additionally, the expansion comes with some new mechanics – adaptations and in-game quests. The first allows some minions to "adapt" to various situations on the field via minor enhancements. The second are a new type of magic cards. When a quest is played, it appears above the player's avatar, similar to secrets. Once the conditions of the card are met, a reward is given to the player.
The new patch also retires some of the old cards, though, so do make sure to check if your decks are still valid for Standard mode. The expired cards can still be used in Wild, just like before.
Also, if you happened to obtain some Un'goro card packs ahead of the expansion's release, they will now be unlocked and you can go ahead and open them.
The update is now out on all platforms – iOS, Android, and PC – so do make sure to check out the new content.
via
BGR