Has Samsung's new wearable leaked in these patent applications?
23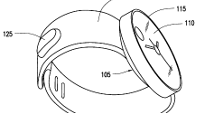 On Friday, we told you about
Samsung's next Tizen flavored smartwatch
that is supposed to be able to make/take calls, and send/receive email without being paired to another device. The watch is also supposed to include a heart rate monitor, GPS, a camera and Bluetooth. And now, thanks to the release of some Samsung patent applications, we have an idea what this device just might look like. With its round face, the watch in the applications filed with the USPTO by Samsung, looks like
the brother of the Motorola Moto 360
.
Some of the patents are related to the gestures that control the functions of the wearable. One image in the patent applications shows the watch user moving two fingers apart, in front of a reader that is apparently located on the back of the band.
The patent applications released by the USPTO include: 20140143678 – GUI Transitions on Wearable Electronic Device, 320140143737 – Transition and Interaction Model for Wearable Electronic Device, 220140143784 – Controlling Remote Electronic Device with Wearable Electronic Device, 20140143785 – Delegating Processing from Wearable Electronic Device, 20140139637 – Wearable Electronic Device, 20140139486 – Placement of Optical Sensor on Wearable Electronic Device, 20140139454 – User Gesture Input to Wearable Electronic Device Involving Movement of Device, and 20140139422 – User Gesture Input to Wearable Electronic Device Involving Outward-Facing Sensor of Device.
While the timing of the release of these patent applications coincides with the leak about Samsung's new wearable, the patent covers a device that gets its network connectivity from pairing with a smartphone or tablet. That would go against the stand alone features we've been hearing about the new smartwatch. So it could turn out that these patent applications have nothing to do with the leaked wearable expected from the company this summer. On the other hand (no pun intended), there still could be a connection between these patents and the upcoming device, even if it is just the GUI, or the design of the watch.
To see images from Samsung's wearable patent applications, check out the slideshow below.
Thanks for the tip!
source:
SammyToday