WSJ confirms a standalone Samsung smartwatch coming this summer
25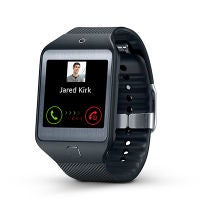 It was in early April when we first heard rumors about a possible Samsung smartwatch that would not require being paired to a smartphone for connectivity. The so-called
Samsung Gear Solo
(or Gear 2 Solo) sounded like a reasonable enough thing for Samsung to release, and now the device seems to have been confirmed by a new report from
The Wall Street Journal
.
The
Journal
doesn't even mention the name "Solo", but the report does say that Samsung is preparing a standalone smartwatch running Tizen that will be able to place and receive calls, and send email, all without the need to be tethered to a smartphone. It may not be named the "Solo", but it is certainly part of the Tizen-powered
Samsung Gear
lineup, rather than the Android-powered Galaxy Gear brand. The device will have other functionality that we've seen in the Gear line including GPS, Bluetooth, a camera, and a heart rate monitor.
Supposedly, Samsung is already in talks with wireless carriers in the US, South Korea, and Europe to help bring the device to market; and, Samsung is planning to announce the device in either June or July with a release possible for sometime over the summer. No word yet on pricing or specs.