Has Microsoft quietly killed off Windows 10 Mobile?
45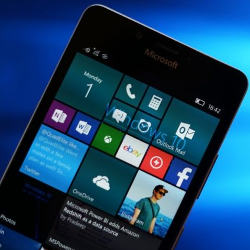 Microsoft's recent release of the Creators update of Windows 10 Mobile is very limited.
Only 13 models supporting the platform are able to update to this new variant
of Windows 10 Mobile. Of the 13, only 6 are Lumia branded handsets. And now, Microsoft has removed the Upgrade Advisor app that allowed Windows Phone 8.1 handsets to update to Windows 10 Mobile. Add to that the report that the Windows Insider app no longer offers new builds of Windows 10 Mobile for Windows Phone 8.1 users, and well, Windows Phone's goose is seemingly cooked.
For example, let's take a model that was originally shipped with Windows Phone 8.1, is now running Windows 10 Mobile, and is no longer supported by the Insider app. If someone with such a handset wants to downgrade back to Windows Phone 8.1, he/she won't be able to bring Windows 10 Mobile back to the phone afterward. This seems to go against comments that Microsoft software engineer Dona Sarkar tweeted to a fan last year. She said that Microsoft was dedicated to supporting Windows 10 Mobile and would "drive demand for the Lumia line." What she apparently meant was that Microsoft would drive a stake through Windows 10 Mobile and Lumia's hearts.
Instead, it seems that Microsoft is finally ready to pack it in as far as Windows Phone, Windows 10 Mobile and the Lumia name is concerned. With an embarrassing low market share, what else can Microsoft do? Windows 10 Mobile users simply want to know what Microsoft has in mind for the platform so they know whether to finally give in themselves and buy that
Samsung Galaxy S8
or
Apple iPhone 7
that they've been eyeing.
Speaking of the Galaxy S8, Microsoft has decided that if you can't beat them, join them. It is selling a Microsoft edition of the
Samsung Galaxy S8
which will feature Microsoft built apps like Office, OneDrive, Skype, and Outlook. This actually is a very good idea for Microsoft because it owns a ton of Android patents. In fact,
it makes more money licensing these patents to Android manufacturers
each year then it ever did selling phones with their own mobile OS inside.
source:
MSPoweruser