Hands-on with the Nokia N85
13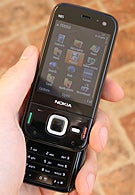 Today, there was a knock on the door, we rushed to open it and greeted the delivery boy who gave us a nice package. We went back inside and with shaking hands started to boxing it. When we finally took the wraps off and opened it, we found a brand new, shiny Nokia N85.
The device looks good and sleek with glossy body and similar dimension to the
N81
. However, the N85 is a dual slider, which when pushed downwards, reveals dedicated music controls, similar to the ones in
N96
and
N95
. This is a good feature for a multimedia device and the N-Series stands exactly for that. With that said, the screen is very important. Here, it is
2.6" OLED
with QVGA resolution and is capable of displaying 16 million colors. You may be wondering what is different about OLED displays. Basically they are brighter, have wider viewing angle, faster response time and lower power consumption. Ok, we've got the picture covered, but what about sound? The N85 has a standard 3.5mm jack, so you can use your favorite headphones without any adapters; furthermore, it has built-in stereo speakers, so you can share your music with the people around you. If you happen to get tired of listening to your tunes, you can turn on the radio. In addition, this is one of the few Nokia devices with an
FM transmitter
. This means that you can broadcast the music from your phone's memory via FM frequency to your car's stereo or another receiver, but keep in mind that it has a very limited range so it won't be classified as a pirate station. If you are a gamer by heart, you'll be happy to hear that the N-Gage gaming platform is also present, to keep you occupied on those long bus rides. Naturally, a multimedia device needs a good camera, so you can capture all of those precious moments. What we have here is a 5-megapixel camera with Carl Zeiss optics and dual-LED flash. We would have preferred a Xenon one, but we won't make judgments before testing it.
The multimedia front is covered, but let's not forget that this is a Symbian S60 smartphone, so there is a wide variety of third party applications to expand N85's capabilities. There also are some neat features like Wi-Fi, GPS (both for navigation and geotagging photos) and global 3G with support for AT&T frequencies.
Expect our full review of the Nokia N85, soon!