HTC's market value is at an 8-year low; the end may be near
83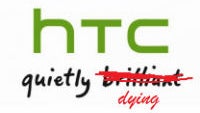 HTC has been on a rough road for a while now. The company has tried to save itself with a more focused approach to its mobile development, and the truly great HTC One. But, having a single great device hasn't been enough, and the company has continued to falter so much that its market value hit an 8-year low last month, prompting new speculation that the end may be near.
Since HTC hit a high in 2011, the company's market value has dropped an incredible 90%. The company is currently valued at $3.8 billion, which is down considerably from its high of $37 billion in 2011, but is still too high to attract a potential buyer. But, analysts believe that like
BlackBerry
and
Nokia
, being acquired is where HTC is headed if things don't change. In fact, Bloomberg is saying that HTC's analyst consensus rating is the lowest out of over 500 listed technology companies.
Dennis Chan, an analyst at Yuanta Securities in Taipei says that while HTC's market value is still too high for a merger or acquisition, he doesn't expect the company to be able to turn it around, and thinks that eventually HTC's value will drop enough to attract a buyer. It is unclear how long that will take, but HTC doesn't have any big plans in the works that we know of as a hail mary. We know the
HTC One Max
is on the way, and there are rumors of a
Windows Phone
device based on the HTC One, but neither of those are likely to significantly change the fate of the company.