HTC was barred from Windows 8 tablets
20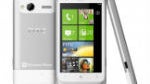 Last year, we had heard rumors of an
HTC tablet running Windows 8
that would be on its way, but it looks like that may not come around because the relationship between HTC and Microsoft has soured and HTC is no longer getting access to Windows software for tablets. According to Bloomberg, HTC is no longer a preferred hardware partner for Windows tablets, but the reasoning is a bit unclear.
The official story from Microsoft seems to be that HTC just doesn't have the requisite experience in building, marketing, and selling tablets to give Microsoft the confidence that the company would make a good partner. HTC tablet sales so far have been pretty disappointing, mostly because the Flyer and Jetstream were both reasonably well made, but also quite overpriced. This would explain why the majority of Windows tablet stories we've heard have been in regards to Samsung, Asus or Acer, but it doesn't really explain why
HP has been rumored
to be making a Windows tablet.
The other possible reason for HTC being barred from the partnership is that HTC engineers apparently had been pushing to make a customized homescreen on the Windows 8 RT tablet in order to differentiate from the competition, but as we know, Microsoft isn't in the game of selling a customized experience. Microsoft is in the game of selling Windows, and so, HTC was "left off the list" of companies provided early builds of the Windows software.
Whatever the reasoning, we can understand the POV of Microsoft. The company wants to sell Windows, not a skinned Windows experience, because Microsoft makes money on the Windows brand, whereas Google doesn't much care about making money on the Android brand, so long as the ad revenue keeps coming in. And, it is true that Samsung and Asus have more established credibility in the tablet market. Still, HTC is a quality company, so if it can prove itself with an upcoming Android tablet (although none are on the horizon), or it can prove itself in the WP8 phone space, perhaps it can get back in the game.