HP will make tablets again, this time with Windows 8
10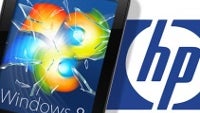 Hewlett-Packard will start making tablets again, and the
first new HP tablets will run on Microsoft's upcoming Windows 8 platform
. HP is coming fresh right after it kicked its webOS-based TouchPad tablet into the gutter over poor sales. Now, the company comes back with renewed hopes for Windows 8 tablets.
HP's chief executive Meg Whitman is restarting production as an attempt to capitalize on "the extraordinary growth in tablet sales." Most of that, though, we should note, is iPad growth as Apple's tablet continues to dominate the industry.
We don't have any further details about the upcoming tablet, but one guess we could make is that it will arrive in late fall, or the beginning of winter as that's when Windows 8 is expected to ship.
In other HP news, the company plans to merge its printing and PC business. A merger valued at $65 billion, this move is to make Hewlett-Packard more efficient with a cenralized sales and marketing teams. Also, the company will coninue its focus on ultrabooks, and thinner notebooks with Envy lineup.