HTC reveals which four of its handsets will be updated to Android 9.0 Pie
8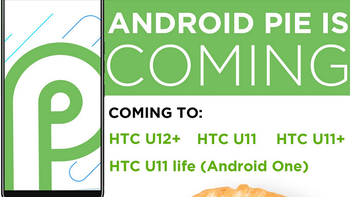 You have to wonder about the survival of HTC as a smartphone manufacturer. Another year has gone by, and while the specs of the
HTC U12+
certainly fill in all of the blanks that HTC users complained about in years past (the phone has a 3500mAh battery, and an IP68 certification rating), the device was overshadowed as usual by the latest from Samsung. That's the thing, folks.
No matter how poorly Sammy's Galaxy S9 models are doing at the cash register
, they still cast a very dark and very long shadow over HTC and LG.
So why are we bringing up HTC? Well, the company disseminated a tweet today revealing that four of its models will be receiving the update to Android 9.0 Pie. The four models are:
If we had our feet up on a desk at HTC, and we were called in to see co-founder and CEO Cher Wang, we'd tell her that she needs to speak to as many Android users as possible to find out what they want in terms of hardware, software and capabilities. And the company right now is in a position where it needs to go for broke; no design can be considered too crazy. Go wild with the specs. Design in a 5000mAh battery, include a huge display, make the next flagship insane. In other words, HTC needs to design its next flagship phone like it is the last one it will ever produce. Because if things continue as is, HTC's 2019 flagship could very well be its last one.