HTC refreshes affordable Desire series with four new LTE phones: HTC Desire 626, 626s, 526 and 520 go official
HTC unveils three new affordable smartphones, bringing a big refresh of its HTC Desire line-up. The new phones are all powered by the Snapdragon 210 system chip and run on Android
5.1
Lollipop with HTC Sense on top. The new members of the Desire series are made out of plastic and come in some interesting color combinations, plus they feature the signature for HTC dual grills up front that make them stand out in the crowd.
A big refresh for the HTC Desire series
The names of the new phones are HTC Desire 626s and Desire 626, as well as the HTC Desire 526 and Desire 520, with the main difference between them being in screen size and internal storage. The whole lineup also comes with an 8-megapixel main camera capable of recording 720p video. All phones come with 2,000mAh batteries.
With all this in mind, let's take a closer look at each one of these handsets.
HTC Desire 626s, 626
The HTC Desire 626s and Desire 626 both feature a 5-inch HD display (720 x 1280 pixels) and the exact same physical dimensions: 146.9 x 70.9 x 8.19 mm. The two phones come in a variety of color options: Marshmallow White, Gray Lava, Blue Lagoon, Marine White, and White Birch.
In terms of specifications, the Snapdragon 210 system chip inside them features a quad-core CPU with four Cortex A7 cores running at up to 1.1GHz. This configuration powers Android 5.1 Lollipop with HTC Sense 7, and the skin brings extensive customization options including HTC Themes, BlinkFeed, and Sense Home.
The HTC Desire 626 is a bit of a higher-end affair with its 16GB of internal storage and 1.5GB of RAM, plus it has a 5-megapixel front-facing cam for selfies, while the Desire 626s features a fairly limited 8GB of internal storage, 1GB of RAM and a 2-megapixel selfie cam. Both support expandable storage via microSD cards, and are identical in all other areas.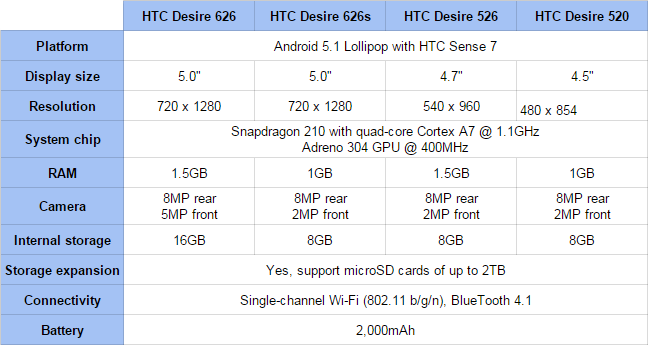 HTC Desire 526
Moving down in size, the HTC Desire 526 is a phone with a 4.7-inch qHD (540 x 960 pixels) display with a thicker, 9.9mm body. It runs on the Snapdragon 210 system chip with the quad-core CPU clocked at 1.1GHz as well, but it does offer a larger-than-average 1.5GB of RAM.
The main gripe here is the limited 8GB of internal storage, but luckily you can expand that via microSD cards of up to 2TB.
HTC Desire 520
The Desire 520 is the most affordable in the lineup: a phone with a 4.5-inch FWVGA (480 x 854 pixels) display, the same Snapdragon 210 SoC with the CPU clocked at up to 1.1GHz, with 1GB of RAM and 8GB of internal storage that can be expanded via microSD cards.
Release date and price
The new HTC Desire 626, HTC Desire 626s, HTC Desire 526 and HTC Desire 520 are made for the United States market and will be offered in multiple color versions. AT&T, T-Mobile, and Verizon Wireless will be offering them, and they will also be available in pre-paid form from Boost Mobile, Cricket, MetroPCS, Sprint Prepaid, Tracfone and Virgin Mobile USA. We expect to hear more about the exact versions that will be available soon, and prices should also be unveiled in the near future, but one thing is certain - these new phones will be affordable.
HTC MAKES PREMIUM SMARTPHONES AFFORDABLE WITH NEW HTC DESIRE LINE UP
New HTC Desire smartphones make flagship features and stand-out design affordable, and
broadly available at prepaid and postpaid carriers beginning this month
Bellevue, WA – July 15, 2015 – HTC America Inc., a leader in mobile innovation, announces the
release of four new HTC Desire LTE smartphones – the HTC Desire 626, HTC Desire 626s, HTC
Desire 526 and HTC Desire 520 – designed to make premium smartphones affordable and accessible to all. HTC brings many of the same features found in its flagship HTC One® M9 to a premium and modern design that will withstand the test of time.
"At HTC, we don't think you should have to sacrifice or settle if you are looking for an affordable
smartphone. That is why we are bringing the absolute best affordable smartphone to market with
the HTC Desire line-up," said Jason Mackenzie, president of HTC America. "Our Desire
smartphones brings the premium experiences, performance and style of our flagship smartphone at
an incredible price.
Bold, personal design meets high performance
The new HTC Desire smartphones represent the intersection of modern style and performance. The
seamless construction combined with the latest in color combinations delivers stand-out style that
will continue to look great over time.
The HTC Desire 626 and HTC Desire 626s have a 5-inch screen and come in an array of dual color
combinations including: Marshmallow White, Gray Lava, Blue Lagoon, Marine White, and White
Birch. The HTC Desire 526 has a 4.7-inch screen and comes in Stealth Black, and the HTC Desire
520 has a 4.5-inch screen and comes in Steel Gray.
Personal style isn't only on the surface. With HTC Sense® 7, the new HTC Desire smartphones can
be customized with HTC Themes, HTC BlinkFeed® and HTC Sense Home applications.
HTC Themes pull color and textural elements from a favorite photo to modify the look of apps, color
scheme and home screen. HTC Themes also provides an opportunity to create and share a theme
with the HTC community, or just browse and download one created by other HTC users.
The HTC Sense Home is an intelligent widget that automatically curates apps based on usage and
location. It is contextually aware of location, time of day and preferred apps at home, work or on the
go. While exploring a new city, HTC BlinkFeed intelligently recommends restaurants near you and
recommended by friends during mealtimes.
As LTE devices with quad-core processors, the HTC Desire 626, HTC Desire 626s, HTC Desire 526
and HTC Desire 520 offer speedy uploads and downloads while keeping up with multitasking
between apps. A 2000 mAh battery and expandable memory further enhance the power of the new
HTC Desire line.
A better way to relive favorite memories
The HTC Desire 626 and HTC Desire 626s' 5-inch, HD 720 pixel screen beautifully displays photos,
video and multimedia content with an immersive smartphone experience. HTC One Gallery syncs
with Facebook, Flickr, Google Drive and Dropbox accounts and brings photos together in a single
location to make finding, searching and viewing easier than ever.
Zoe®, a signature HTC app that comes preloaded, makes it especially easy to share visual stories of
experiences with friends and family in a more dynamic way. Zoe Highlights combine favorite photos
and video with music to bring the experience to life. The HTC Desire line comes with an 8MP
primary camera and video captured by HD 720p video recording capabilities. The HTC Desire 626
has a 5MP front-facing camera while the HTC Desire 626s, HTC Desire 526 and HTC Desire 520
come with a 2-megapixel front-facing camera.
Availability
The HTC Desire 626, HTC Desire 626s, HTC Desire 526 and HTC Desire 520 will be widely
available in a variety of colors from major prepaid and postpaid U.S. wireless providers including
AT&T, Boost Mobile, Cricket, MetroPCS, Sprint Prepaid, T-Mobile, Tracfone, Verizon Wireless and
Virgin Mobile USA. Each provider will confirm the colors and models it's carrying, beginning this
week and through the coming months. Follow @HTCUSA and visit
http://www.htc.com/us/smartphones/htc-desire/ for more information.