HTC "dismayed" that Apple is suing it for patent infringment, HTC Flyer and HTC EVO 4G in the mix
65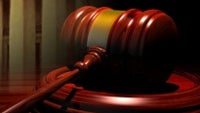 HTC's last year and CES 2011 handsets, plus the HTC Flyer are listed by Apple as infringing on five of its key patents, new info about the
ITC complaint
it filed recently reveals.
HTC's official reaction is also in, and Grace Lei, its general counsel, says: "
HTC is dismayed that Apple has resorted to competition in the courts rather than the market place. HTC continues to vehemently deny all of Apple's past and present claims against it and will continue to protect and defend its own intellectual property as it has already done this year.
"
We have two issues here - first, why is everyone using the phrase "vehemently deny" in these cases, and, second, why are we forced to become knowledgeable about patent law? We kid, but if the next step is HTC filing a counter-suit with the ITC, we could already start from the bottom in an IP law firm.
The phones Apple insists are infringing on five of its patents are all of HTC's 2010 and CES 2011 crop, from the
HTC EVO 4G
to the
HTC Thunderbolt
, plus the
HTC Flyer
tablet. The patents cited by Apple to be dragged through the mud by HTC are "
application programming interfaces for scrolling operations
", "
list scrolling and document translation, scaling, and rotation on a touch-screen display
", "
programmable tactile touch screen displays and man-machine interfaces for improved vehicle instrumentation and telematics
", "
double-sided touch-sensitive panel with shield and drive combined layer
", and "
portable computers
". Some of these patents overlap with the
complaint against Samsung Apple filed last week
.
We don't want to stir controversy here, but the HTC devices listed are entirely of the Android variety, we have a hard time believing that the company's Windows Phone 7 handsets are not infringing on the exact same patents, as specified above, yet nary a say on those in the complaint. Not to mention HTC's had some of these features on its phones since the dawn of WinMo, and certainly before 2007. Fun stuff, and
Apple's chief patent man rumored to be leaving the company
makes it even funnier.
source:
FOSSPatents
&
SlashGear