HTC clarifies its security precautions for the fingerprints collected by the One max
12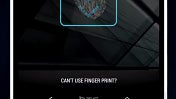 Just like Apple thought long and hard how to
sandbox the fingerprint algorithm
that its new
Touch ID
technology is using to unlock the
iPhone 5s
or authorize iTunes purchases, so did HTC when it decided to put a scanner on the back of the
One max
.
HTC's first phablet features a small square on the back that unlocks the phone when you swipe down your index finger on it, or whatever other finger you have authorized to do so, as you can do up to three other fingers to launch different apps directly from the lock screen. A pretty neat idea hinting that biometrics are one of the ways to get around the aging identification methods like passwords or patterns we mostly use now.
There are, naturally, privacy concerns with the fingerprint storage technology, and we probed HTC several questions about the One max, one of which was precisely about the scanner on its rear. Here's HTC's answer to allay your worries:
PhoneArena
: How do you store the fingerprint data? Is it stored in a secure "enclave" inside the chipset, similarly to how Apple stores fingerprint data with the iPhone 5s? Does HTC have access to the fingerprint data stored by users on their One max phones? Is it possible for HTC to share this data with third-parties?
HTC
: The fingerprint data is stored in local memory. It is encrypted and stored in the system partition, which can't be readily accessed or copied. The fingerprint data is not an actual image but fingerprint characteristics that have been identified by a proprietary algorithm. No, HTC does not have access to the information and the fingerprint cannot be used by a third party.
There you have it, for those of you who were intrigued how HTC addressed the fingerprint safekeeping situation on its first phablet, the One max. Fingerprint sensors are apparently gaining in popularity with a bunch of companies big and small introducing them on their phones and tablets, so we'd better get used to the convenience they offer, but keep an watchful eye on the way the prints are handled by each maker. There are plenty of ways to leverage the fingerprint identification method still, on which you can
read in our dedicated article
.