HTC Vive pre-orders start February 29th; VR headset priced at $799
25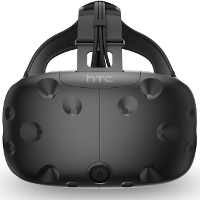 If you are waiting for the HTC Vive VR headset to be available for pre-orders, we have some good news today. The company has announced that the device can be reserved starting on February 29th at 10am EST. This is for the final consumer version of the Vive, which has some added features
compared to the Vive Pre that was on display at CES in Las Vegas last month
.
The price of the HTC Vive will be $799. Among the new features added for the consumer version of the headset is phone connectivity. You will be able to pair your iOS or Android phone to the device using Bluetooth. This will allow you to receive calls and messages even when you are "in another world." And with the built-in microphone, you will be able to respond to those calls without having to remove the headset.
Compared to the Vive Pre, the consumer version of the device has a sleeker look with a more-rounded design. There are two gaskets being offered that allow the headset to fit different size faces. The Vive will be available in 24 countries for the initial pre-order period, including the U.S., U.K. and parts of Europe.
So what exactly are you getting for your $799? In the package comes the VR headset, two room sensors, two wireless controllers and all of the necessary connections allowing you to hook up the device to a PC. While any set of earphones will work with the headset, HTC includes a pair of ear buds in the box. And those who reserve the HTC Vive will receive two titles to jump start their Vive experience, Job Simulator: The 2050 Archives, and Fantastic Contraption. You will need a PC with a specific graphics card (possibly the Nvidia 970 or AMD 290). HTC will release in the future, the specific specs required for the headset. Shipping is expected to start in April.
Last month, HTC CEO and co-founder Cher Wang said that
creating connected virtual reality devices is more important to HTC than producing smartphones
. Will she still feel the same way after the Vive has been released?
source:
SlashGear
,
Pocketlint