HTC Vive pre-orders start February 29th; CEO Wang says VR is more important than smartphones
19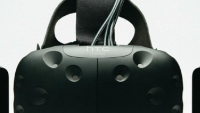 HTC's VR headset, the HTC Vive, will be available for pre-orders starting on February 29th. According to HTC co-founder and CEO Cher Wang, the company is focusing on Virtual Reality and away from smartphones. According to Wang, HTC is now "more realistic." The newly revised developer kit was unveiled at CES and included the front-facing camera that can add a dose of reality to your virtual reality. The HTC Vive will go on sale in April, although pricing has yet to be announced.
HTC's smartphone offerings have not been selling lately, and the
HTC One M9
was not competitive in the big flagship battle that manufacturers like HTC, Apple, Samsung, LG and others engage in every year. We still expect the
HTC One M10
in 2016, but it increasingly seems that HTC's heart is no longer in the game. And that is sad considering the company's legacy in producing some of the most famous smartphones of the past. That includes the
T-Mobile G1
, the first Android powered handset. The Windows Mobile flavored
HTC HD2
offered what was considered back then a massive 4.3-inch screen, and the
Nexus One
kept Androidmania going after the
Motorola DROID
started to fade.
"Yes, smartphones are important, but to create a natural extension to other connected devices like wearables and virtual reality is more important...I think the problem was competition – Apple, Xiaomi, these companies spend tons of money on communications and marketing, they pump a huge amount of investment into the market. There are a lot of Chinese competitors."-Cher Wang, co-founder and CEO, HTC
Recent changes were made in the design of the HTC Vive headset to make it lighter, and to allow those wearing glasses to don the device comfortably. The release of the Vive's pre-order date comes after reservations started being accepted for the Oculus Rift VR headset, priced at $599. That device will ship in March.
If you're interested in our experience with the HTC Vive, check out our hands-on with the developer kit by
clicking here
.
Thanks for the tip!
source:
Telegraph
Recommended Stories