HTC U 11 leaked hands-on: looking lovely in 5 shiny colors!
11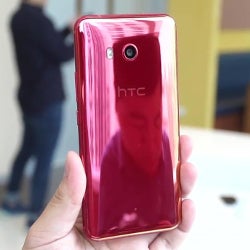 So, by now you've probably heard that HTC has a new phone in the kitchen, ready to be announced tomorrow. It's the "actual" HTC flagship for 2017 — the
U Ultra
, which we saw earlier this year is, apparently, a "proof of concept"-type device, made for the tech-addicted powerusers and / or HTC uberfans (sort of like how Samsung's Note series or LG's V series are super-powerful but not the companies' flagship device).
So far, we know that the upcoming phone — named the
HTC U 11
, allegedly — will share design concepts with the
U Ultra
and will feature a new "squeeze" feature, which will apparently allow the user to interact with the phone by just squeezing its frame. Take that, 3D Touch!
We've seen quite a lot of renders, leaked pictures taken with a potato, and whatnot but today, someone made an oopsie and leaked what appears to be a promo video for the yet unannounced HTC U 11. Unfortunately, the video was taken down almost immediately and it doesn't seem to have a mirror uploaded anywhere, at least not yet. So, what we have is just a few screenshots of the HTC U 11 video, showing five of its colors!
Update:

through the power of the Internet, the video has been revived! It's a hands-on of a foreign media, which gives us a pretty good look at the device.
As speculated, the flagship will be adorned by the same super-shiny, deeply-reflective finish that HTC perfected while making the U Ultra. The thing is gorgeous to look at, though, "fingerprint magnet" doesn't even begin to describe its grease-displaying skills. But still... look at that red!
In the footage, we can see the system UI for the squeeze feature, which apparently can have its sensitivity adjusted. We also get a splash text, which suggests a Snapdragon 835 and 6 GB of RAM, which seems to be confirmed by the leaked video, as far as we could hear. Sadly, there's also a USB Type-C to headphone jack adapter in the images, which probably means that HTC will be courageous enough to not include the 3.5 mm jack on its flagship device.