HTC Thunderbolt appears in Best Buy circular
13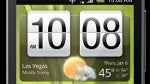 The HTC Thunderbolt's highly-anticipated launch is getting closer and closer with an image surfacing of next week's Best Buy circular advertising the device as being available for pre-order…
Best Buy has offered pre-orders for mobile devices before, usually requiring a $50 down payment to guarantee you the device when they become available. The same will go for the Thunderbolt. Furthermore, the $50 down payment will get you a Best Buy gift card with a value of $50, which you will then use towards the purchase at the time of its release.
The HTC Thunderbolt is going to be one of the first smartphones to run on Verizon's speedy 4G LTE network. Moreover, with features such as an 8 megapixel camera with dual-led flash and HD video-recording capabilities, a front-facing camera for video chatting, it will almost certainly be a hot ticket item.
This is the easiest way to make sure an HTC Thunderbolt is waiting for you come Valentine's Day, if that release date is actually accurate. Keep an eye out this upcoming Sunday to see the circular for yourself. Plan on heading over to your local Best Buy to pre-order the Thunderbolt? Tell us what you think in the comments below.
source:
Android Central