HTC Sense UI for tablets Walkthrough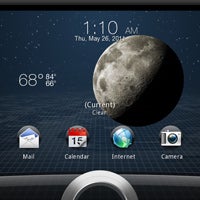 Introduction:
Taking pride in producing a myriad of memorable looking smartphones and continuing to set the bar high for itself, there's no kidding that HTC's brand recognition is esteemed highly throughout the industry. Some would tend to agree that they're regarded as being a top-notch manufacturer in producing beautiful looking handsets, while others argue that they're actually making more waves with their customized mobile experiences. From their humble beginnings with their TouchFLO interface running on top of Windows Mobile 6.1 to their latest Sense UI iteration, we've witnessed the evolution of their recognizable interface, but now it seems to come around full circle with their tablet experience on the
HTC Flyer
. With that in mind, let's place our attention on how HTC attacks the new product medium with its Sense UI for tablets.
Home screen, main menu and visuals:
At its core, Sense for tablets adopts most of the fundamental characteristics and functionality that we've seen in use with previous iterations of the customized experience – meaning, it's distinguishably Sense from the onset. However, there are plenty of eye-catching visuals, transitions, and 3D effects employed throughout it that truly highlight its polished form. In reality, the resemblance is undeniably familiar to any other Sense device we've checked out, but the evolutionary improvements help its presentation look and feel as though it's refreshingly new.
Luckily, the
homescreen
is well established to work in either portrait or landscape, but it doesn't look too different on the surface when it's primarily used in portrait. Meanwhile, landscape mode allows you to view some of the other nearby homescreen panels – with other panels appearing to be translucent in the background. Furthermore, the 7 available homescreens are positioned in a circular carousel, which is evident when you quickly execute a swipe gesture that makes the entire thing spin aggressively. Adding more eye candy, most of the
HTC widgets
boast this layered 3D look as you swipe a panel towards the main one. Naturally, these subtle graphical elements add a lot to the polished form of the interface.
Executing a pinch gesture on the homescreen, we're instantly presented with
helicopter view
that displays all the homescreen panels simultaneously – thus allowing you to instantly jump into a particular one or rearrange them to your liking. At the bottom
edge
of the interface is the
dock
that houses things like the app panel and personalization buttons, which also surrounds three others that can be modified to your specification.
Getting into the
app panel
, icons are laid out in their general grid-like formation, but highlighting a specific tab at the bottom left of the panel categorizes items to things that are used most frequent and ones that are downloaded.
Frankly, one of the other special highlights about the interface is the fact we're treated to a
modified lock screen
that does more than what you'd expect. Specifically, the weather animation commences and ultimately shows us some pertinent information like temperature and condition. Also, you can instantly jump into any of the four preset applications by essentially dragging and dropping them into the ring.
Personalization
has always been a core strength of Android as a whole, especially when widgets seemingly beautify the interface, but Sense kicks it up a notch by implementing various services to its set of widgets. Relying on the ones offered by HTC, they now encompass the full area of a homescreen page as opposed to taking up a finite amount of space. Obviously, the beauty in it all is that they still offer the usefulness of any widget, but in addition to that, there is a uniform approach to their design that makes everything seem so consistent with one another.