HTC Rezound hands-on
36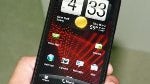 Motorola brought it to the table its DROID RAZR, then not too soon after that, Samsung came onto the scene stealing a lot of power with the introduction of its Ice Cream Sandwich filled Samsung Galaxy Nexus. Well people, it's now finally HTC's turn to bring their next-generation offering to the table so they can solidify themselves as a major competitor during the crucial holiday period. With that, they introduced the
very heavily leaked
HTC Rezound
, which is bound for Verizon Wireless, Best Buy, and other retailers starting on
November 14th
for the 2-year contract price of
$299.99
.
Just as it was mentioned at the press event, the
HTC Rezound
takes some of the design cues that are found on the HTC Droid Incredible 2, which doesn't make it any bit more fresh looking. Specifically, we find sharp
red accents
around its earpiece, camera lens, and capacitive Android buttons. Sure it might not take our eyes off the killer design of the Motorola DROID RAZR, but nonetheless, it's considerably toned down versus the HTC ThunderBolt. Meaning, rather than finding a metallic feeling device, the Rezound's design is mainly comprised of plastic – with that similar tiered design in the rear, much like the Droid Incredible 2. Still, it feels very good in the hand, but its appearance
doesn't
really stand out as much.
Without a doubt, the biggest thing on paper to amaze us, besides the fact that it's a
4G LTE
enabled smartphone, is that it packs a staggering
4.3" 720p HD display
. Not surprisingly, it produces plenty of clear and sharp details to make even the faintest of text more than legible. Meanwhile, the S-LCD panel that it's using enables color to pulse with enough iridescence and luminance to capture our attention. However, we're curious to see how it handles in outdoor conditions under the gaze of the sun.
Internally, the handset is powered by a speedy
1.5GHz dual-core Snapdragon S3 processor
, which is coupled with a generous 1GB of RAM. Running
Sense 3.5
on top of Android 2.3 Gingerbread, the handset is undoubtedly peppy enough from our quick inspection. Furthermore, the other standout with the handset is its fully equipped camera taking capabilities. Specifically, it packs the same camera that we've been seeing on other handsets, which is an
8-megapixel auto-focus camera
with dual-LED flash. Certainly, the sweeter thing about it is the fact that it features an f/2.2 wide-angle lens and backside illumination to produce clear shots in low lighting. And on top of that, there's a lot of fun to be had with taking photos since it's packed to the brim with various instant effects; like slow motion. On the audio side, it features
Beats Audio
to provide the utmost best audio quality versus other handsets in the US.
Honestly, this is an amazing handset on paper, but considering that it's going up against both the Motorola DROID RAZR and Samsung Galaxy Nexus, it doesn't seem to embody enough new and fresh qualities to make it the most favorable between the three. In any event, it's going to be here sooner than later, which is nice – though, some might still complain about its $299.99 price tag. In any event, HTC is generous enough to mention that it'll be getting Ice Cream Sandwich early next year, but then again, who knows when that'll actually happen.