More HTC Rezound videos show it off before Verizon's announcement: boasts a 720p screen, Beats Audio
7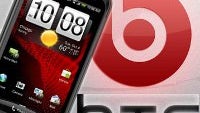 The
HTC Rezound
has quietly captured our imagination in recent days –
with leaks here and there
, we're eagerly anticipating tonight's unveiling of the device by Verizon and we have a good reason for that. The Rezound is a 4.3-inch handset boasting a
resolution of the whopping 720x1280 pixels
, just like the one on the Galaxy Nexus. But it's not only that – the handset comes with
Beats Audio support
, which promises to really take sound up a notch.
But what's most interesting, the first videos demonstrating the HTC Rezound have surfaced on the web and give you pretty much all the details about the handset. To quickly freshen up your mind, here's what the Rezound specs are widely believed to be:
- 4.3" screen, 720x1280 pixels,
- 1.5GHz dual-core processor,
- 1GB of RAM,
- Android 2.3.4 Gingerbread with HTC Sense 3.5,
- 8-megapixel camera capturing 1080p videos,
- 16 gigs of internal storage.
Now, those are just specs that don't really tell the whole story. What seems apparent from the videos below is the visible bump in picture detail thanks to the impressive resolution. The Rezound is aimed to replace the HTC ThunderBolt on Verizon, and it's thinner and initial reports claim it has a more capable battery.
It's one of the first HTC devices to ship with
Beats Audio support
. We'd save our judgment for later today, after we've had some hands-on time with the device, but it's worth mentioning that people who've spent some time with the device mention
"a significant difference when you plug headphones,"
"fantastic"
sound quality and overall, a
"noticeable difference."
HTC has been slowly evolutionizing its handsets and this really looks like a pretty comprehensive package. This is evidenced also by the first
camera samples
below. Stay tuned for more information about the Rezound later today, but in the meantime why don't you share your opinion: could this be your next phone?