HTC One with stock Android rumor won't die
21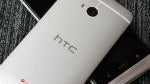 When Google surprised us all by announcing the Google Edition Samsung Galaxy S4, the rumors started up right away about the possibility of the HTC One getting the same treatment. Something about the idea of the HTC One hardware with stock Android and no Sense really got people excited (we wonder if HTC noticed that part), but
HTC attempted to dispel the rumors
. Unfortunately, this rumor isn't going away that easily.
LlabTooFeR, developer of the Maximus ROM for newer HTC devices, claims that a "Senseless HTC One" (we're not sure HTC would approve of that phrasing) isn't just a rumor, but is a real device that may be released around the end of summer. The existence of a stock Android HTC One seems to be a fact as far as LlabTooFeR is concerned, although he does seem to be speculating on the "end of summer" release date.
This may just be nothing, or it may point to HTC being a bit too literal in commenting on the original rumor. An HTC spokesman had said, "HTC is not currently planning a 'Nexus Edition' of the HTC One." That may well be true, just as there's no such thing as a "Nexus Edition" Samsung Galaxy S4, only a "Google Edition" S4.
Recommended Stories