HTC One X Hands-on Review
71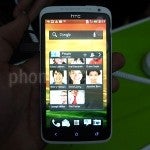 The HTC One X – a smartphone that has been teasing Android fans for so long, has finally landed in our hands for us to check out. And the excitement surrounding this device is well justified, given that it flaunts the specs of a true high-end Android device. Here we have an HD display, Android 4.0 Ice Cream Sandwich and all that sprinkled with a dose of Sense 4.0 on top. Okay, there's one more thing – the HTC One X actually features the Tegra 3 quad-core processor. Wohoo! A pretty important detail, we know. However, please keep in mind that the U.S. version of the HTC One X, which is going to be available through AT&T, will only have a dual-core SoC (but will sport LTE, which isn't going to be available with the international version).
Right now, pricing and release date for the One X are still unknown. Enough talk, let's check it out:
Design:
You can easily tell this is an HTC device. It is not the slimmest or smallest smartphone out there, but it has a solid build quality. The machined polycarbonate unibody design is something we have been praising in select HTC phones for years. It really feels very light but solid in the hand. The 3 capacitive keys on the front may give some retro feel, but this allows for bigger screen real estate.
Display:
On the front of the HTC One X resides its 4.7-inch Super LCD2 display sporting HD resolution of 720 x 1280 pixels. This of course results in excellent pixel density, making everything looking sharp and detailed even from up close. HTC claims the display is "visible from every angle", even up to 180 degrees. We can confirm it has superb viewing angles. HTC also claims "the laminated cover glass and touch layer eliminates light reflection for superior sharpness and clarity" but we will try these once we get a review unit which we can test during the day. For those wondering about the precious display, we can happily say it is protected by Corning Gorilla Glass, which many of you love.
Camera:
Until now, HTC was known for having not so great cameras on its devices. This is about to change. The new One series devices will feature ImageChip - a dedicated processor for taking care of the camera related processing. The 8-megapixel camera on the back also has some interesting features. It has an aperture of f2.0,which pretty much means it will let more light enter the imaging sensor, allowing taking better pictures in low light conditions. The actual sensor is back side illuminated improving low light pictures even further. Launching the camera from the lockscreen should take about 0.7 seconds (impressive), and focus should lock in less than 0.2, for capturing this precious moment. Indeed, when we tested one of the units available here at MWC, it did look like the camera is extremely fast to say at least.
What about video capture you ask? It is 1080p of course, and HTC claim the camera removes jitter and let's you easier lock the focus on a moving object. While capturing video, you can also capture a photo simultaneously, or take a photo from a video that is already recorded (another impressive feature).
Software:
As you guessed, many of the new features come thanks to the new software – Sense 4.0. Of course, it looks better than before and is easier to use. Actually, we love what Android 4.0 did with the stock interface, but HTC brings some additional personalization so HTC phones can differentiate. And it has some additional features - let's focus on some of them.
The Beats Audio profile can now work with any application (previously it worked only with the built-in player). This means you will be able to enjoy it with YouTube videos, Games and any other content. There isn't information if there is any other improvement in the Beats software or the phone hardware, for better sound quality.
Sense 4.0 also has some new syncing options. Once you connect your HTC phone to the computer, it will allow you to sync your media library. After the initial setup, the phone will sync over Wi-Fi so your music library can stay up to date without the need of attaching wires.
An interesting accessory is the MediaLink dongle which connects to any HDMI capable TV. Once done, you can screen-mirror your phone on the TV and watch movies or play games in 1080p with great audio quality. Separate dongle will be available for your car stereo to stream high-quality audio to it from your One X.
Memory:
The HTC One X does not offer a microSD card for storage expansion, but it makes up for that with its 32 GB of on-board storage, which will come standard on the device.
Expectations:
We are extremely happy with the HTC One X from the very short time spent with it. It reminds us of previous HTC models, but also shows the manufacturer is on the right direction. While keeping the trademark solid build quality, it is slimmer and better looking than before. Meanwhile, the phone performs admirably on the hardware front, so what more can one wish for? What's your opinion about the One X?
*Please note that in the second and third videos below, we're checking out the AT&T version of the HTC One X.