HTC One S to launch via T-Mobile on April 25th according to training slides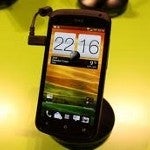 Carriers just don't throw a device on the floor and say to the reps, "
go sell it
."
There is training involved
as the reps learn all they can about a specific device. Apparently, T-Mobile reps have just through a presentation on the HTC One S and leaked shots of some of the slides used in the training session show that the nation's third largest carrier
will be launching the device on April 25th
. This dovetails with
earlier reports that the phone would be launching late this month
.
which will be priced at $199
. One slide says that the carrier will be grandfathering the $4.99 for 300 text messages plan as the new $5 for 150 text messages plan starts on April 11th. And each T-Mobile store will have 1 live unit and 1 dummy model of the HTC One S for customers to play with.
T-Mobile reps will have an incentive to push the model. It looks like every sale of an HTC phone will allow a rep to spin something called "The HTC Wheel" to earn points. These points can be redeemed for "prizes, devices and swag" according to one slide. Pricing for the HTC One S is still unknown at this point, but should be revealed as we get closer to the 25th.
source:
TmoNews