HTC One Mini for AT&T caught on camera
14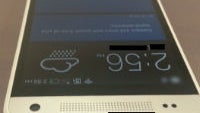 Although there hasn't been any official announcement of the HTC One Mini, we all know that it is coming, and we know a fair bit about the device. Although, there really isn't a whole lot to know. The device is going to be an HTC One... mini. Still, we've got some leaked pics of the AT&T version of the device, and surprise surprise, it looks like a smaller HTC One.
Luckily, whoever has their hands on the device knew enough to take pics of info screens, so we know that the device has a dual-core Qualcomm CPU with an Adreno 305 GPU (aka a Snapdragon 400), 1GB of RAM (although previous pics have said
2GB
), 16GB of internal storage (with about 11GB free), Android 4.2 with Sense 5, and LTE. We've learned before that the HTC One Mini will have a 4.3" 720p display, although that's not listed in the images here.
We already knew that the HTC One Mini is
coming to AT&T
, and that's the branding on these pics.