HTC One M9 shipments 43.75% lower than HTC One (M8) shipments after three months
36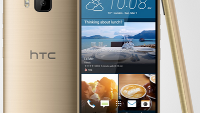 The
HTC One M9
has been a disappointment for the manufacturer. Things are so bad, HTC announced recently that it would be
unveiling a new redesigned flagship "hero" phone in October
. Today, we are able to quantify HTC's misery thanks to a published report that compares shipments made by HTC of the two devices.
Keep in mind that HTC kept the same screen size and resolution between the
HTC One (M8)
and HTC One M9, and both have the same design. HTC did add two-tone color to its metal build, and added texture to the rocker buttons. It also moved the 4MP Ultrapixel camera to the front and put in a 20MP rear shooter. The new model also adds another GB of RAM (bringing the total to 3GB of the sweet stuff) and includes a small bump in the capacity of the battery to 2840mAh.
So far, 4.75 million units of the HTC One M9 have been shipped during the first three months of the device's availability. That figure is 43.75% lower than the number of HTC (M8) handsets that were shipped during its first three month period. You can compare this to the 10 million units of the
Samsung Galaxy S6
/
Galaxy S6 edge
that
Samsung shipped in a little over the first month
that the phones were available.
HTC is back to square one with fans anxiously awaiting the new device expected to see the light of day in October.
source:
DigiTimes