HTC One M8 for Windows vs Nokia Lumia 1520: first look
5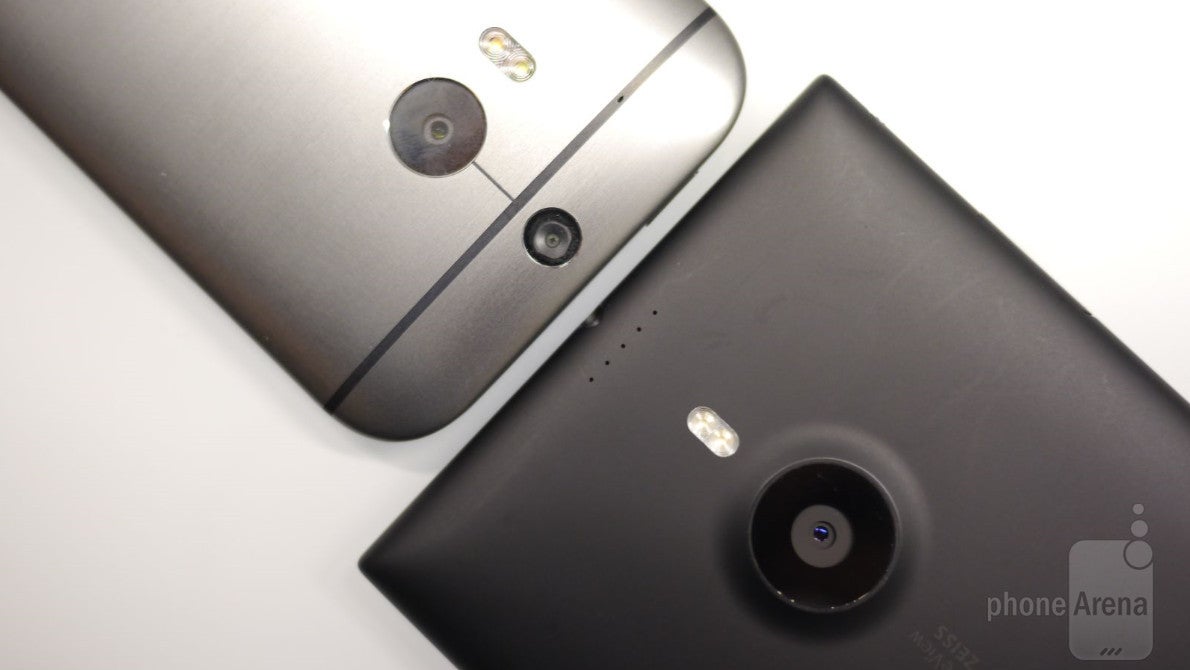 As we look far and deep into the Windows Phone space, there's no denying that there's a single company that's been consistently delivering quality devices. Nokia, as we know, has a place right beneath Microsoft's wing, so it's no surprise to us that the
Nokia Lumia 1520
is still one of the darling devices in the space. However, HTC is stirring things up and making a lot of commotion with its brand new
HTC One M8 for Windows
, which renews this relationship we though ceased to exist. Two devices, both running Windows Phone, but ultimately we need to find out which of the two is indeed the crown jewel for the platform.
Design
Wow! These two couldn't be any more attractive, since they bear many quality characteristics that help elevate their overall designs. Even though the Nokia Lumia 1520 is constructed out of polycarbonate plastic, it's the sturdy variety that gives its construction that extremely solid. And best of all, its hard lines and iconic Lumia design language, help to keep it in favorable regard to the metal constructed HTC One M8 for Windows. Needless to say, we can't complain about the two, but that choice of going with a brushed aluminum chassis gives HTC's product a very slight edge.
Display
Matching one another in resolution, the obvious difference between the two displays is the ridiculous size of the Nokia Lumia 1520's screen. Specifically, it's outfitted with an insanely large 6-inch 1080 x 1920 IPS LCD display, which makes the 5-inch 1080 x 1920 Super LCD-3 display of the HTC One M8 for Windows appear quaint in size. Regardless of that, we really like the look of the two displays, so it's rather difficult to say with enough certainty which one we actually find more attractive.
Interface
Finally! We're pitting a Windows Phone against another Windows Phone. Seriously, it's been a long time since we've come across a Windows Phone aside from a Lumia branded one – so it's refreshing to see HTC's take on the platform. By now, we appreciate the enhancements Nokia has made to the traditional Windows Phone experience, but we're equally pleased by what HTC is doing as well in the space. Generally speaking, the look, feel, and operation are uniform with the two, but it all boils down to the added enhancements each phone brings to the table. As much as we'd love to detail which of the two we prefer, it's rather difficult to come to a conclusion until we spend more time dealing with HTC's offering.
Processor and Memory
In our experience, high-end spec'd Windows Phones have shown us that they're capable of delivering snappy responses with their operations. Despite having hardware that's regarded as last-generation, the Lumia 1520's quad-core 2.2GHz Qualcomm Snapdragon 800 SoC with 2GB is able to match the performance out of the newer quad-core 2.3GHz Qualcomm Snapdragon 801 processor with 2GB of RAM used by the newer HTC One M8 for Windows. Then again, we have to reiterate that we're spending only a short time checking out the two, but we're guessing we'll have a more concrete understanding of their performances the more we check out the HTC One M8 for Windows.
Yes, they're both stuffed with an ample 32GB of internal storage, which can be supplemented by their microSD card slots.
Camera
If there's one area that Nokia has been particular in differentiating its phone from the competition, it's in the camera department. Interestingly, though, HTC is focusing on the same thing with its new Windows Phone smartphone, as it's packing a duo camera system to deliver some neato effects to photos post shot. Specifically, they're achieved thanks to its 4-megapixel "Ultrapixel" camera, which has another rear camera to measure depth information for those snazzy post photo effects. In contrast, the Lumia 1520 plants its feet firmly into the ground by gathering attention with its 20-megapixel PureView camera, which as we know, is known to capture an insane amount of detail. Only time will tell us which of them will prove to be the more viable option for shutterbugs.
Expectations
Nokia has been quite busy in the Windows Phone front. From entry-level to high-end stuff, the company has been relentless in providing consumers with variety. Continuing to be a darling in the Windows Phone space, despite having been available since last fall, the Nokia Lumia 1520 is still the Windows Phone to beat. Needless to say, the HTC One M8 for Windows has a lot riding on its back, but it's going to need more than its sturdy metallic body to take the crown away from the Lumia 1520.