HTC: Last guidance is as low as we'll go
21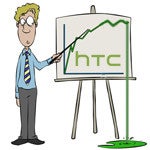 Taiwanese smartphone manufacturer HTC has had a rough go of things the last two months. After a
quick rise
though the hyper-competitive smartphone market allowed them to become the fourth largest manufacturer of smartphones, they have been forced to
cut their guidance
on revenue sharply last month.
HTC's revised guidance was a 30% drop from initial projections, and some financial advisers expected another adjustment to HTC's projections this month, leading to additional reduction in stock valuation. In an attempt to reassure investors, HTC announced yesterday that they have no plans to lower their guidance at this time.
HTC previously cited the global economy as a reason for their slowdown, although the record sales some networks are seeing in the U.S. calls this into question. A more realistic assessment is the competitive realities of the smartphone market, where Apple and Samsung are grabbing large chunks of market share.
Despite the record-setting sales pace of the iPhone 4S, it may be Samsung who is most directly responsible for HTC's reduced market share. Android sales have increased strongly year over year, but Samsung's handsets have grabbed a disproportionate amount of that growth – territory that had been HTC's domain previously.
HTC says they expect to
return to sales growth
in 2012, when a new line of products come to market. Do you guys think HTC can turn it around, or will increased competitive pressure keep them from regaining their previous rate of growth?
source:
Reuters
via
electronista