HTC "Iron Man" executive Peter Chou profiled: perfectionism, abrasive management and quick decisions
16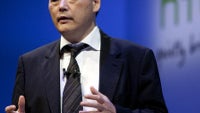 HTC is a company that has seen it all. It popped the champagne in the early years of Android when HTC phones sold like hotcakes and now it has fallen to
barely hang in the top 10 smartphone makers
. All throughout, Peter Chou was at the helm of the company. Now, as HTC is undergoing tough times the earlier unthinkable question surfaces -
is it time for a leadership change?
First, though, it's worth knowing who is Peter Chou as a manager. Born in Myanmar, he studied electrical engineering in Taiwan and co-founded HTC in 1997, after a gig at Digital Equipment Company (DEC).
As a leader, Chou is described as a perfectionist paying meticulous attention to materials and design. No wonder HTC's smartphones are easily recognized for their distinc, industrial looks. His room would often be filled with prototypes that he'd inspect, so many that a pile would form that would sometimes spill and fall on the ground.
"Having the ability to just tear up a plan and say, OK, this is the new thing and we're going to get it done fast. That's Peter," a former senior foreign executive at HTC said.
A man of quick decisions, Chou has the will and authority to quickly adjust. This is what is thought to be in the core of both HTC's success and current problems. In a nascent Android market, quickly changing components and delivering devices translated in a success, but in a more mature market where you have to plan ahead to secure orders HTC's strength might have turned into weakness.
"The weak point is they don't really have a long term strategy," said another ex-executive. "It used to be a strength, and now is becoming a weak point as they don't have a clear direction going forward."
The quick rise to the top of HTC allowed the company to hire foreign executives and Chou went for it. His abrasive management style however would intervene with their egos as Chou would override their decisions without even asking. Fast forward to today, and
the international team that HTC assembled has largely fallen down
and the company is back to its Taiwan core with Taipei designers. Yet, it's still an international company and Chou understands this.
Can changing the leadership shift the tide for HTC, though? It's hard imagining the company without Chou, not just for the public, but for the employees and even the critics. And truth is there is no one person to be named a successor. Right now, HTC has kicked off a big effort to change - introducing cheaper devices in China, rejuvenating its US positions with closer carrier ties and building a new operations team. All of that happening as a
new marketing campaign
with Robert Downey Jr. kicks off. It's a start, and we're soon to hear about HTC's new devices for this Holiday season including a phablet, the
HTC One Max
.
source:
Reuters