HTC Inspire 4G Hands-on
5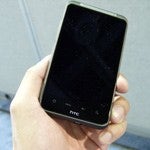 Finally! It's surely a long time coming, but AT&T customers are about to get their dose of full blown high-end HTC love. We're not saying that the
HTC Aria
didn't offer an astounding Android experience for AT&T's customers, but we all know that the manufacturer is capable of producing a higher quality smartphone. And that's exactly what we're seeing with the
HTC Inspire 4G
which follows closely to the design of the
HTC Desire HD
over in Europe. Even though some might not be as thrilled about its eventual arrival for the nation's number two carrier, we're sure AT&T's customers will appreciate it in more ways than you'd speculate.
Upon holding it for the first time, we're merely satisfied with its
design
since it's actually more of the same as it employs a near identical look to the European HTC Desire HD. Without question, its fine crafted industrial design stands tall because it utilizes some metallic materials that are complemented with some soft touch coating – which is the dual combination needed for a razor sharp looking handset. In fact, it closely reminded us of the HTC HD2 since it has a curved back cover to naturally hug the contours of your hand. Overall, the fine materials it's made out of and quality construction easily enables it to be one terrific and admirable smartphone that we're sure AT&T customers will gobble up.
Just like most other HTC super phones of late, the HTC Inspire 4G packs a
4.3" WVGA Super LCD display
to provide your fingers plenty of real estate to handle. Naturally, it's a bit larger than most handsets, but it still looks streamlined enough to hide away easily in a pocket. Moreover, we can't complain about its resolution since it's the minimum expectation nowadays, but it would've been surely nice to see some kind of upgrade to catapult it to the next level.
In beautifying this handset, the HTC Inspire boasts the usual concoction of
features
to deem it a high-end smartphone – like its 1GHz processor, 8-megapixel auto-focus camera, and 720p video recording. Unfortunately, the unit we looked at wasn't equipped with its battery, but it's actually going to be running the latest version of the Sense UI on top of Android 2.2 Froyo. Furthermore, it's more than likely to see the HTC Inspire 4G offering support for HSPA+ connectivity since the carrier has been using the "4G" moniker of late on other things. Basically, it'll translate to a peppier data connection to provide than non-stop web browsing experience you find on a desktop PC.
To sum up out brief encounter with the HTC Inspire 4G, it's definitely going to surprise AT&T customers with its larger than life presence, but it's actually nothing we've seen before. All in all, the design of the phone is probably one of its most beloved features, but its specs aren't anything groundbreaking compared to what's going to be coming out in the near future.