HTC Evo Shift 4G on sale at Best Buy
5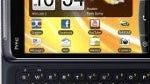 On sale at Best Buy this week is the HTC Evo Shift 4G for Sprint, which will be available for the price of $99.99; a $50 decrease from the $149.99 price tag that it has carried since the time of its launch.
Anyone looking to join the Sprint network as well as existing Sprint customers that are eligible for an upgrade will qualify for this pricing. Amazon recently dropped the price of the Evo Shift 4G on their website, but their pricing varies depending on the type of activation. They sell it for $149.99 to upgrade eligible customers and discount it to $99.99 for new comers to Sprint.
So all in all, the HTC Evo Shift 4G has begun going down in price in multiple places. Keeping in mind that Best Buy does not deal with mail-in-rebates, does the drop in price entice you to head on over and pick yourself up an Evo Shift 4G? Tell us what you think in the comments below.