Sprint strikes back with the HTC EVO 3D
57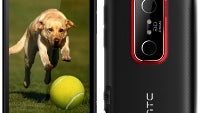 When HTC talked about its future products, it always said that 3D is among the things the manufacturer is considering. Today is the day when those intentions materialized for the greater public and the greater good. Hot on the heels of the first 3D-enabled phone - the
LG Optimus 3D
, and its AT&T versions, the
LG Thrill 4G
- comes the HTC EVO 3D for Sprint.
We needn't inform you what a groundbreaking device the first
HTC EVO 4G
was, with its huge screen and WiMAX connectivity, when announced last year at the same CTIA show we are at now. Sprint even
quoted our review
at its presentation today, when it was talking about the virtues of the first EVO phone. It was the trailblazer of a trend for touchscreen devices with large displays that many, including Steve Jobs, thought are doomed to fail, but now represent a significant portion of what we call smartphones.
Sprint just announced at the its CTIA presentation a worthy successor - the HTC EVO 3D. It sports a
4.3"
display with a glasses-free
parallax barrier overlay
for 3D-viewing, with
qHD
540x960 pixels resolution. This resolution is much bigger than what we have on the LG Optimus 3D, and you need all the pixels you can get, since these parallax barrier overlays diminish it when turned on. There is a dedicated
2D/3D switch
on the side, for those times when having two cameras on the back just isn't enough to attract someone's attention in the club.
The 3D magic doesn't stop at passively watching the screen, however. You can also take an active role creating your own 3D content with the help of the two 5MP cameras on the back, creating
stereoscopic image
for both stills and video, which can be captured with
HD quality in 3D
at 24fps, and Full HD 1080p at 30fps, when shooting in the plain ol' 2D mode. The front-facing cam is 1.3MP.
These capabilities mean, of course, that we need a dual-core chipset to power the phone, and the HTC EVO 3D doesn't disappoint. It sports a
dual-core 1.2GHz
third generation Snapdragon CPU. To stream those 3D videos and images you will have a choice of HDMI or DLNA. The phone will come directly with
Android 2.3 Gingerbread
. Availability is slated for the hot summer months.
source: Sprint
Recommended Stories